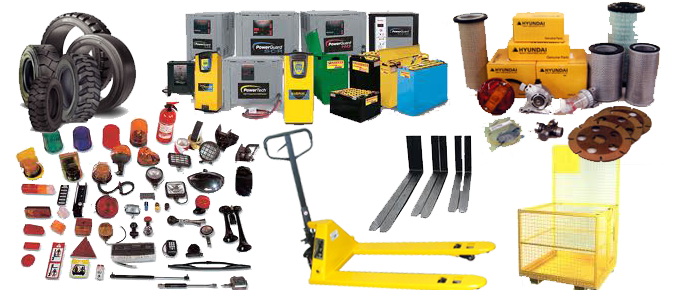 Using forklifts is an essential part of many business operations today. Forklifts offer immense utilitarian value in the business world nowadays. It is worth highlighting that each forklift comes with specific load capacities. Forklift operators need to ensure that they avoid exceeding these ratings. If they do, they could find their forklifts breaking down. In many cases, this might necessitate purchasing original forklift parts from reputed suppliers.
Purchase the Best Tyres for Your Forklift When You Shop for Forklift Parts
Many vehicle owners do not pay much attention to the tyres of their vehicle until they start malfunctioning. This is true for forklifts as well. The tyres you use on your forklift could have a significant effect on the performance of the forklift. Using the best tyres could make it easier for your operators to handle the forklift. In addition, this could reduce your forklift maintenances expenses too.
Manufacturers typically design forklifts with a specific frame. As such, only specific kinds of tyres suit these frames. When you want to change the tyres of your forklifts:
Refer to the forklift manual for ascertaining whether the forklift can use cushion tyres, pneumatic tyres or both
Consider the kind of forklift you have i.e. diesel-powered forklifts typically use pneumatic tyres while electric forklifts use cushion tyres
Consider the terrain in which you use the forklift i.e. for rough terrains, opt for pneumatic tyres; for smooth pavements, use cushion tyres
Use pneumatic tyres is you use the forklift outdoors and,
Use cushion tyres if you use the forklift indoors only as these tyres have lower turning radii
Southcoast Forklifts – Your One-Stop Shop for Authentic Forklift Spare Parts
It's never wise to purchase forklift parts from the first supplier you come across. In many cases, you might find yourself paying top dollar for a used or even, a defective part. Eliminate this risk by sourcing your spare parts from a reliable dealer such as Southcoast Forklifts. A Victoria based forklift company, we specialise in offering new and used forklifts throughout Australia. In addition, we stock a comprehensive range of spare parts for numerous makes and models of forklifts as well. Therefore, if you require authentic spare parts for your forklift, simply let us know. We will be able to source it for you and deliver it to your doorstep.  For more details, call us at 1300 988 795.