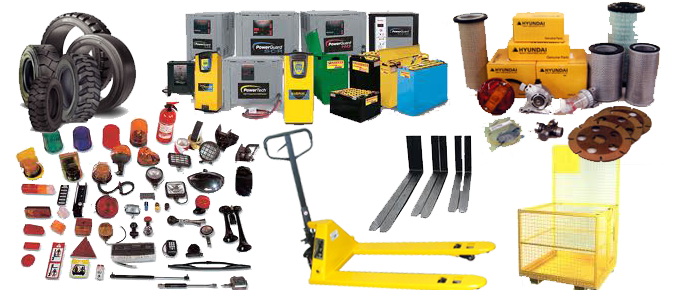 Every forklift owner knows the immense value that these machines provide. The rough conditions that these machines typically operate in causes them to experience various wear and tear issues. As a result, the owners of these useful machines often find themselves searching for reputed suppliers of forklift parts. One fact that often escapes the attention it deserves is the fact that worn out tyres enhance the stress placed on the forklift by as much as 20 percent. If left unchecked, your worn out tyres could cause long-term damage to this invaluable machine.
Forklift Tyres – One of the Most Important Forklift Parts
In many cases, forklift tyres will usually be of the standard or press-on varieties. The standard forklift tyres are similar to the tyres used in cars these days. In contrast, press-on tyres are ideal for electric forklifts or forklifts designed for indoor use. It's easier to put press-on tyres on forklifts than standard tyres.
The three most common varieties of forklift tyres include:
Pneumatic Tyres: These are similar to the heavy-duty tyres used in trucks. Filled with air, these tyres feature thick, deep treads. Manufacturers usually use strong rubber for these tyres to enhance their durability. By providing an air cushion between the forklift and the surface, these tyres extend the operating life of the unit.
Solid Rubber Tyres: Unlike pneumatic tyres, these tyres are solid and not filled with air. They will not experience flats too. However, they won't provide an air cushion like pneumatic tyres either. Ideal for indoor use, these tyres are long-lasting.
Polyurethane Tyres: Ideal for indoor use, these tyres provide the appropriate traction and low-rolling resistance that electric forklifts typically need. Consequently, they have longer lifespans. Applying them to the forklift is simple too.
Do You Need Quality Forklift Spares or Forklift Wreckers in Australia?
Southcoast Forklifts is a Victoria based forklift company. For years, we've earned a formidable reputation for providing top-notch forklifts and forklift parts. We've made it easier for forklift owners to find authentic forklift spare parts. Regardless of the make and model of your forklift, we're sure to have the part number you're looking for. We also supply both new and used forklifts too. Furthermore, if you need to hire a forklift, we could help you with that as well. So, visit the experts on forklifts in Australia. Click here to find forklifts for sale.